Its no question about it. Lil Kim was and still is the Queen B. There hasn't been a female that has come out since her debute in 1996 ,that has proven to be better in my eyes. She held her ground as the only female in the Junior Mafia Clique, her sexy lyrics raised eyebrows , and gained her lots of publicity, and attention in the Hip Hop world. Kim's rarity among female rappers shocked the Hip Hop Community.Her edgy hardcore rap ,and explicit sexuality, were two categories that was mostly only talked about among male rappers. Of course, Kim's near pornographic sexuality and hard edged rhythms made her stand out within hip-hop, but Hard Core proved that she was no novelty, as it received positive reviews and strong sales.
But Lately The queen has been taking shots from new females Rap artists. You got Remy Ma speakin on her all the time. Then you got Nicki Minaj the Swag Jacker, stealing the whole black Barbie thing from her. Foxy Brown still thinks shes competition. Here is the scoop from the Queen herself ....
So this is Remy Ma's Diss To Lil Kim
And Lil Kim's response was this,lol she got off on Remy Ma, I dont even think she did 16 .....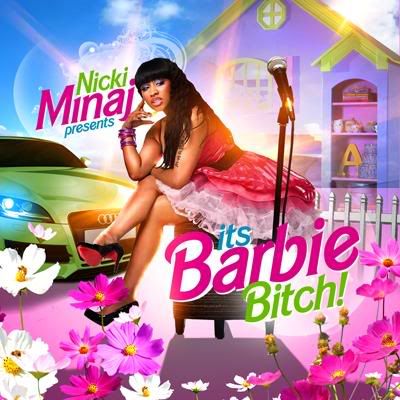 Then Nicki Comes along and straight Swag Jacks Kim. Nicki Minaj, who has begun what she calls "the Barbie movement" has apparently ruffled Lil Kim's feathers. Kim allegedly posted this collage on what is supposed to be her official Facebook page, making a clear statement about her thoughts on Minaj's familiar gimmick.
And, well all know that Nicki likes to eat pussy. Nothin wrong with that. But at the same time she's used to be a STUD. Wave caps and all . Apparently Nicki knows Remy Ma pretty well. Listen to the voice on the video below. Hmmm ?
Now we are gonna let you guys be the judge on if its her or not.
Nicki Minaj Used To Be A Stud
- Watch more
Videos
at Vodpod.
The Real "Black Barbie" explains her style & fashion when she's not in front of the camera. Cant say the same for Nicki !
Queen B Shining on these hoe's !
So there it is fans. You decide. Is Nicki Minaj jacking Lil Kim's swag? We dont know looks pretty clear whats goin on here. How about some originality in Hip Hop. Please !