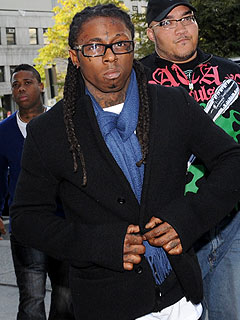 Wayne showed up to the New York State Supreme Court wearing jeans and a grey hooded sweatshirt. He was joined by rapper and Cash Money records co-founder "Birdman" ,and a ton of fans and media gathered outside the lower Manhattan courtroom. His sentencing had been postponed on two different occasions in the last month. Once so he could get dental surgery ,and then again because of a fire that shut down the courthouse.Carter remained silent during the entire hearing. Judge Charles Solomon passed the sentence for attempted possession of a weapon. During Waynes tour a gun was found in his bus in July of 2007. "Weezy" F. Baby is headed to Rikers Island jail, where he will be held in protective custody and could be released in eight months with good behavior.
Prior to Wayne's sentencing, he sent a six-part series of videos on his life to MTV.com. "Road to Rikers" is what he calls it. It shows Carter before and after dental surgery, shooting videos and relaxing at his home around his loved ones. MTV News reported that he filmed nine music videos in anticipation of his jail term. Looks like he wont even be gone to his fans. He will be in a good place when he comes back. Still on top of his shit. With more hits to keep us fans aching for more.
Carter also started a Twitter account last month.Im of course following his tweets. His most recent tweet, posted on Monday, said: "Law is mind without reason ... I'll return."
I wish him peace of mind and stability while he's there. Though much of that doesnt come when you are away from your loved ones. We will see you soon. *Kisses*
"Road to Rickers" Part 1