Best Pictures goes to
:
Actor In A Leading Roll
: Jeff Bridges-Crazy Heart
Actor In A Supporting Roll:Christoph Waltz-Inglourious Basterds
Actress In A Leading Roll Goes to : Sandra Bullock-Blindside
Actress In A Supporting Role Goes to : Mo'Nique - Precious
Now to the good stuff lets talk about who came to the red carpet looking a HOT ASS MESS ! My top 3 choices of those that need to find a new stylist quick fast & in a hurry are : (from left to right)'Avatar' star Zoe Saldana, Diane Kruger, & Sarah Jessica Parker. Poor Zoe. I like her as an actress I really do . But this dress she had on has to go. The bottom of it looks like some throw rugs you would see in Target or Walmart. Im disturbed by her choice for the evening. Come on baby its the Oscars ! Avatar paid her more then enough money to get a designer with a little know knowledge in fashion. Diane looked like she was ready to herd sheep in this Chanel dress. Omg !It cried out I GOT IT AT ROSS & it was on the clearance rack.SMH ! And Sarah Wow ! What can I say...well she is known to be a trendsetter, but this big bird inspired Chanel gown failed to impress me . Im not sure what was she thinking? It was simply to simple the dress didnt shout out "Im going to the Oscars" It said Im going to the Oprah... Booo ! Boring ! Yawns. Still highly disappointed in Zoe's dress Ugh!
Amanda Seyfriends & Jennifer Lopez really played it safe this year. Both wore Armani , and went with a simple white gown. I especially like the cut of Jeniifer's dress. It was cute , and not too flashy. We all know that sometimes J-Lo can go a little over board. Amanda didnt wear a necklace which would have taken away from the dress. She kept it sweet & simple.No flaws on the evening. Well done job to both ladies.
Queen Latifa Wowed the crowd with her spectacular gown. It was the perfect dress for her.The lilac satin was beautiful, and the jewel-encrusted strap and bodice band supply the right amount of shimmer. Drop pearl earrings and a silver clutch complete her look. Excellent choice Queen kudos to her stylist.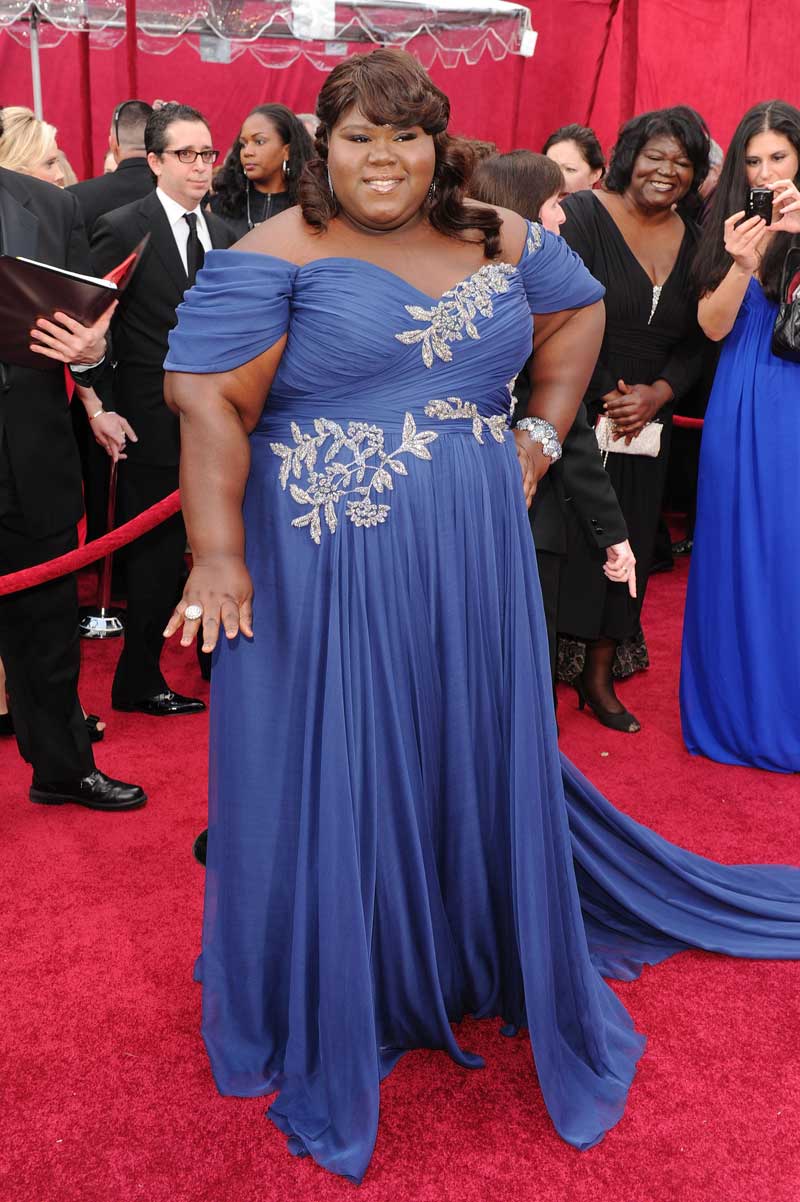 Next up is Gabourey Sidibe. Sigh I dont even know where to start on this one. Im sure alot of yall gone hate me for this , But I gotta say it. I wasnt pleased at all with the dress she had on. Bless her little heart im not gone go super hard on her because in this case I dont think there was much that could be done to get a money shot. I sat and tried to think of other colors that would have worked for her but I couldnt think of one. Purple would have made her look like the "Purple People Eater". Gold would have made her look like a walking Marshmellow stuffed Oscar award. Black... well Im not gone go there cuz I think yall catch my drift. Im not a hater Im happy for all of her success. Id say lets get in the gym babes!
Next up is Mariah Carrey Lol Tits Tits & Mo Tits thats all I honestly saw. Her air balloons blinded me. Im not sure I needed all of that revealed for the Oscars though, she coulda tucked some of that in somewhere. Loved the color of her dress though.
This by far was one of the worst dressed of the Oscars as well. Vera Farmiga, WTF is this shit? Looks like my grandma's old curatins or somethin hangin from her body. And why oh why would you do red of all colors. Ugh ! Wasnt the carpet already red enough ?
Maggie Maggie Maggie she musta went to the same sale at Ross that ol girl when to cuz this shit looks like she jumped right out of a Ross Commerical and came to the awards. You should be ashamed of yourself. Print ! Never Ever do print to an award show such as the Oscars . Next year go for a more elegant classy look.

Kays Hollywood Wrap- These are Trailers of My Favorite Movie's 5 Stars are excellent must see movies. Here are my picks.

Hurt Locker ****



Avatar *****


Precious ***



Up In The Air ****


Blindside *****



Up ***